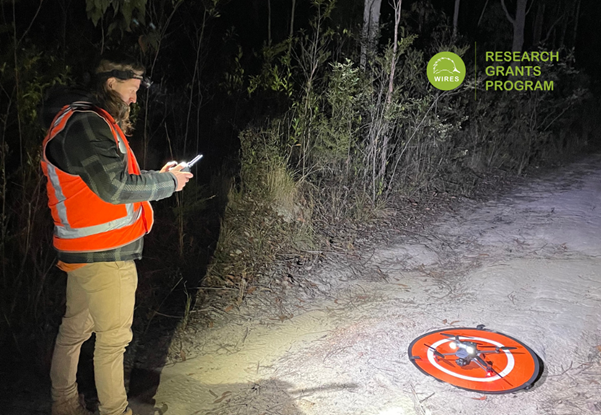 Drones Used to Monitor Post-Release Outcomes of Koalas
Tuesday, August 29, 2023
In 2022, researcher Dr Ryan Witt and his research team from the University of Newcastle were awarded a grant under the WIRES Research Grants Program as part of a project to monitor koala populations on the NSW Central Coast, stemming from a need for accurate and cost-effective conservation tools to secure and monitor koala populations and released rehabilitated animals.
The grant supports purchasing new VHF/GPS ear tags to monitor rehabilitated koalas post-release and conduct genotype analyses of rescued koalas to better understand genetic health in the Port Stephens koala colony.
WIRES were recently invited to witness the project's nighttime monitoring done by drone survey near Port Stephens.
"It's amazing to see the technologies that can be used for conservation these days," shared WIRES Project & Grants Officer Teagan Parker Kielniacz, "and to witness the monitoring of an endangered population in action."
Dr Witt's research team will be working to tag koalas released back into the wild after rehabilitation, monitor their welfare and survival outcomes, and observe how these koalas integrate back into their home population.
Dr Witt's research team will be working in collaboration with Port Stephens Koala Hospital to obtain genetic samples from rescued koalas. Long-term, this data may help to determine how many rehabilitated koalas make up the total population of koalas in Port Stephens and further help us understand the role of rehabilitation in supporting this koala colony.
Progress on this project has included using drones and thermal cameras to survey the koala population on the Tomaree Peninsula, NSW.
Surveys are conducted at night, with researchers often working until 2 a.m. to gather data, flying drones high over the canopy. The specialised drones are equipped with thermal cameras that can pick up the heat signals of animals on the ground or in the trees. Drone pilots are specially trained to determine the shapes of heat signals and match them to animals like koalas. These surveys will assist with a better understanding of the current populations of wild koalas within the Port Stephens koala colony.
WIRES is excited to see this project's outcomes and the impact it will have on our understanding of how rescue and rehabilitation contribute to the monitoring and care of this very special endangered species.
Dr Witt's research team includes Dr Chad Beranek and Shelby Ryan from the University of Newcastle. Their research is expected to conclude in 2025.
WIRES contributed $49,900 to this project as part of the WIRES Research Grants Program.
Do you have a research project that will contribute to tangible, positive and long-term outcomes for wildlife? Applications for the next round of the program will open in early 2024.