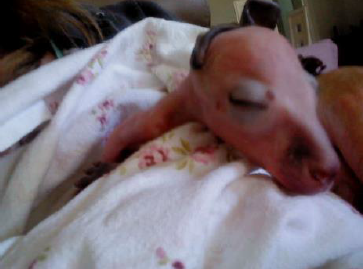 Chaci
Tuesday, March 1, 2016
Hi, my name's Chachi. I'm a Common Wallaroo and this is me way back in March 2016. My mum had been hit by a car and died but I was saved by a lovely lady called Hayley. Hayley was wonderful. She wrapped me up and kept me warm and took me to her friend Jacqui who said she knew exactly what to do. Jacqui phoned another lady called Trish and that night, Trish came and picked me up.
As you can see, my eyes and ears were closed, I had no fur and only weighed 380g. Trish kept me wrapped and warm and gave me drinks of milk from a strange contraption called a bottle with a teat. It was hard at first but I soon learnt how to drink from this and I've loved it ever since.
Trish also rubbed lotion into my skin to stop it from drying out. I'm not sure I enjoyed that part much but it had to be done.
Pretty soon my eyes opened and my ears started to stand up by themselves. I also started to grow my fur but I still needed my heat pad and five bottles each day. Trish started putting me on the ground, just for a few seconds each feed, so that my muscles would grow properly. I loved my life, everyone thought I was the cutest thing ever (and I was!).
And then one day I got a friend. His name is Joey. He's just like me. He's also a Wallaroo and his mum was killed by a car. He already had his fur and he didn't need a heat pad. By this time, I was over a kilo and down to four bottles each day, just like Joey.
We were big enough to hang outside by now and Trish would bring us in at night because it was still quite cold. Here we are hanging with a kangaroo. Trish gets lots of macropods come through her place. Some of them stayed with us while others went to different carers.
We started eating grass, lots and lots of grass as well as shrubs and leaves and we grew bigger and bigger.
We only had one minor hiccup by catching a tummy bug. We were given the same medicine but while I got better and kept growing, Joey stayed sick. It turned out that the medicine had cleared up the tummy bug but had damaged his liver. Once the vet had figured that out, Joey was given just a tiny drop of milk thistle each day and pretty soon he was getting better and putting on weight.
We had other joeys come in with us.
This is Mac and this is Atomic Betty (she was really wild when she came in and would just go off!) And these are Red Necked wallabies Jethro and Elly-May.
Anyway, the time came when Joey and I were finally big enough to go out on our own. Trish put us in a big bag and weighed us – I'm 13kg and Joey's 14kg. Then we went for a quick drive out the back of Thirlmere where there are some more nice people who said we could come live around them.
So here we are on our big day – that's me on the right. At first we were a bit worried and didn't want to go into the bush but Trish walked down with us and stayed until we were feeling better.
I'm sure we'll both miss Trish and she might even miss us. I stayed with her for 19 months and Joey was there for 16 months but it was time we moved out and started the rest of our lives.