Bye Bye Barney - Report from Sydney Morning Herald
Tuesday, August 9, 2011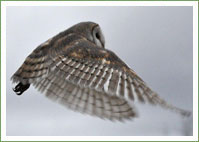 Read the final instalment in the Sydney Morning Herald - The Diary about the Barn owl rescued in Pyrmont earlier this week.
"Yesterday, at 5.45pm, as dusk deepened, and the moon began to shine, Barney the Owl, took flight once more, accelerating with extraordinary grace and power in the direction of its ancient native roost - Star City Casino.
Barney was released yesterday by WIRES' Barry Alexander, who had rescued the concussed young male barn owl on Monday morning after he had flown from the Sydney Morning Herald balcony in Pyrmont bang into the broad glass windows of the Google building opposite. WIRES' raptor specialist Caroline Enfield told The Diary earlier yesterday that it was important to release him at dusk ''otherwise he might get swooped on by the daytime birds''. Enfield said she was confident Barney was being released not a moment too soon, however. ''He's been hopping about, and he can't wait to get out.''
Good luck, Barney. We'll be watching for you."