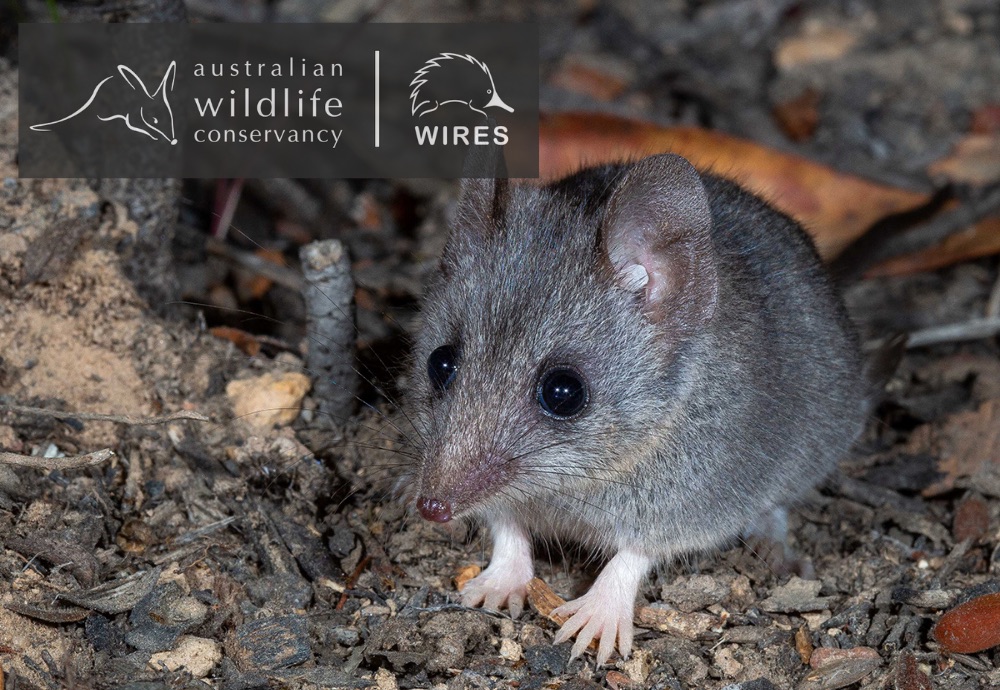 Australian Wildlife Conservancy Project Update
Tuesday, May 24, 2022
Kangaroo Island Dunnart © AWC/Brad Leue
Following the Black Summer bushfires WIRES provided funding to Australian Wildlife Conservancy (AWC) to support three key projects. AWC has been implementing these projects aimed to deliver significant positive outcomes for wildlife and provide new hope for threatened species.
Project 1 – Saving seven threatened species in the wake of the Kangaroo Island (KI) bushfires
Almost half of Kangaroo Island vegetation was destroyed during the fires. It threatened the survival of species including Kangaroo Island Dunnart. In partnership with local groups, the Western River Refuge (WRR) was created and officially launched in February 2021 as a haven to protect 369 hectares of critical wildlife habitat. A range of surveys between December 2021 to February 2022 is showing positive signs of wildlife recovery including the KI Dunnart within the refuge area.
New infrastructure is being established to help remote fieldwork moving forward.
Kangaroo Island's ongoing recovery
Project 2 – Bushfire recovery projects in NSW
AWC continues to map suitable habitats for key species impacted by the bushfires such as the Long-nosed Potoroo, Long-footed Potoroo and Koala. This has included identifying acquisition sites for target species.
AWC has undertaken and completed monitoring of the Wollombi Valley to measure the impacts of the bushfires on threatened wildlife.
AWC is continuing to research and provide advice in the Kimberley region for effective burning regimes based on biophysical factors and biodiversity outcomes. Working alongside many local partners to achieve more specific, science-informed burning targets which have now separated the region into three climatic zones (high, medium and low rainfall).
A report on this research will be made available soon.
Data informs fire management priorities in the Kimberley
Project 3 – Saving the Northern Bettong from extinction
AWC has been working on the design and construction of a feral predator free refuge at Mt Zero-Taravale outside of Townsville. This has included the clearing, grading, drainage, and hard surfacing of the fence line.
Construction of the fence line and creek crossing is due to commence in the first half of 2022.
Extinction looms for Northern Bettong population in North Queensland's Wet Tropics